EDealer, experts in online car sales
EDealer is Canada's largest website provider and a proven leader in inventory syndication. We are dedicated to minimizing the time required by Kia dealers to reach the maximum number of customers with consistent, accurate, merchandised inventory.
At EDealer, we take pride in our industry-leading dealer support team, our technology, and the ability to seamlessly customize our products to dealer requirements. We offer a flexible and an all-encompassing approach to supporting your dealership, including dealer consulting, program training, and performance managers ready to meet every need.
Packages and Pricing
Dealer Webinar
Enroll Now
---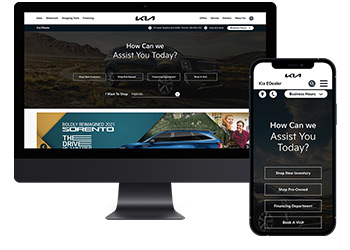 Custom & Responsive Websites
With a mobile-first approach to design and UI/UX, EDealer offers the best dealership designs in the business, built with a unique sense of ownership and branding for your online success. We take the time to carefully craft a seamless experience for your customer, no matter what device they are using
---
Search Engine Optimization
EDealer is proud to offer a seamless website experience that provides high-level visibility in organic search. Our SEO, Design, Web Development and Inventory Development teams work together to provide a turnkey optimized solution for all dealers, with opportunities for upgraded SEO services including on-page website content creation at launch or ongoing content marketing and creation, off-site local SEO strategies and tactics, and ongoing technical SEO optimization for dealers who create their own content on-site.
Our strategists are experts in ensuring that your website is easily read and understood by search engines, visible in the local algorithm and continually ranking in the organic algorithm to help you drive traffic to your dealership from users who are looking for dealers just like you.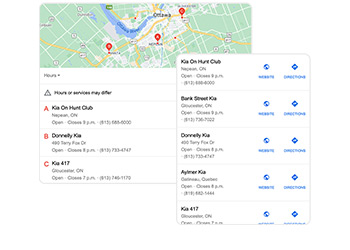 ---
Inventory Management
Utilize our inventory management system through your browser or our mobile app to capture data, images and video, instantly marketing your inventory across all effective forms of digital media. Thanks to over 100 different integrations, the platform gives users the ability to harness the true potential of today's online marketing landscape.
---
Integrations and Syndications
Increase time and cost efficiency by managing your inventory marketing efforts from one system. We can pull your inventory data from almost anywhere. Whether you manage your pricing and options from DMS, or your pictures through a data collection company – EDealer makes inventory management easy! 
Vehicle Data: Pull VIN, Drivetrain, and Colour information to decode options. Then push to 3rd party listings.
Inventory Images: Pull your vehicle images from an individual integration.
Vehicle Pricing: Pull Was/Now pricing with automated bulk price adjustment rules.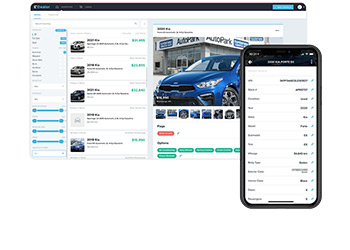 ---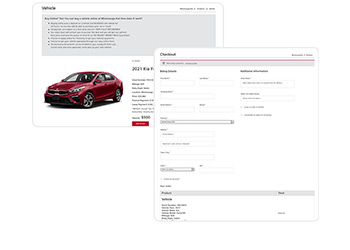 Digital Retailing - eCommerce
Allow customers to complete a vehicle purchase online with our Digital Retailing engine. A simple, easy to customize shopping cart where customers can specify payments, trade information, apply for credit and leave agreed upon purchase notes along with a deposit.  Approved payment gateways include Moneris, PayPal, Stripe and Elevon with other options available.
---
Dealer Support
24 hr Turnaround
Our support system in place is quick and efficient, allowing us to resolve 97% of support tickets in 24 hours or less. Our Kia VIP team ensures you are working with the same representatives on each request which provides faster turnarounds and less back and forth.
20:1 Dealer to Support Ratio
To ensure speed and efficiency, we have a ratio of 20 dealers to a support representative on hand at all times.
Tailored Packages
Our packages are tailored to your needs. We include customization hours in our packages coupled with user friendly tools which keeps your bill consistent to avoid any surprises.